Stefania Buccio Gonzato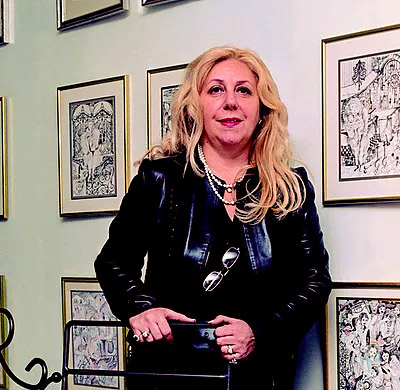 Born in Brescia in the Vicolo delle Due Torri on June 25th 1949.
He obtained the diploma of artistic maturity with full marks at the Liceo Artistico V.Foppa di Brescia. His teachers include the Brescia sculptor Domenico Lusetti.
He graduated in Architecture at the Dei Tolentini University of Venice with professor architect Gino Valle.
1970-1971 During the university period she was involved as the only female student in her faculty, by the architects Leonardo Benevolo, Franco Albini and Franca Helg in the preparation of the master plan of the historical center of Brescia, obtaining an important experience in the urbanistic-architectural field.
1974 passed the State Examination in Venice obtaining the profession of Architect with the famous teacher Carlo Scarpa.
Registered with the Vicenza Architects register
He designs and works as an architect in the province of Vicenza.
1972 The marriage with the entrepreneur Bruno Gonzato moves to Vicenza, his interests that are tangibly expressed in the design of artistic objects and commonly used in wrought iron, work in which the husband, architect Bruno, introduces it.
His artistic relationship is of great importance for the purpose of creating an image for their company. INDIA. located in Malo, first producer of wrought iron and stainless steel artifacts. Other interests related to furniture and objects in general attract her to lead her into the world of figurative art.
The approach to painting takes place in the early seventies.
Lives and works in Schio.
Encouraged by her husband Bruno and her 4 children Francesca, Matteo, Dario and Davide.
The works include a period of time ranging from 1973 to the present and are 40 years old.
L'inizio della presentazione delle sue opere avviene nel:
1976 con la mostra personale, a Bassano del Grappa.
1978 mostra personale a Schio.
1977 ad oggi 2013 Auguri di Natale che realizza da 40 anni per la ditta IND.I.A. spa di Malo Vicenzae che invia a clienti e fornitori di tutto il mondo in 1.000 copie all'anno diventando una tradizione.
2003 realizza la scultura della tomba di Famiglia preparata con la tecnica del bassorilievo in creta poi eseguita in bronzo oggi esposta nel cimitero di Thiene in provincia di Vicenza.
2006 si presenta al pubblico parigino in una mostra collettiva presso la Galleria Miromesmil a Parigi in (Francia)
2007 ha partecipato al concorso indetto dall'Accademia Internazionale di Sant'Agostino per la realizzazione di figure ecclesiastiche ed espone il quadro " Monte Berico "
2007 un'esposizione di quadri Collettiva con 10 artisti presso la Galleria  Modigliani a Milano.
2007 aprile,l'esposizione personale di quadri presso la Galleria Miromesmil di Parigi Francia
2007 giugno ho esposto alcuni quadri a Londra Inghilterra
2007 luglio ho esposto a Bruxelles alla Gallery  Espas Moselle alcuni quadri in collettiva
2007 Galleria Immagine di Cremona alla manifestazione arte fiera di Parma.
2007 settembre manifestazione indetta dal Lanificio Conte per la realizzazione di una scultura rappresentante la pecora dal titolo "Reginella" venduta all'asta per beneficenza
 
| | |
| --- | --- |
| 03/07/2007 | Bruxelles. Espace Moselle |
| 28/01/2008 | Londra. Menier Chocolate Factory |
| 04/09/2008 | Madrid. Casa do Brazil |
| 03/07/2009 | Francoforte. Galerie Raphael 12 |
| 16/09/2009 | Milano. Palazzo del Senato. Mostra Personale Antologica |
| 21/12/2009 | Parigi. Espace Kaméléon |
| 21/06/2010 | Parigi. Espace Kiron |
| 25/02/2010 | Caerano San Marco (TV). Villa Benzi Zecchini presentazione di Vittorio Sgarbi |
| 29/01/2011 | Vittorio Veneto (TV). Chiesa di San Paolo al Piano |
| 29/03/2011 | Madrid. Instituto Egipcio de Estudios Islàmicos |
| 25/09/2011 | Parigi. Espace Kiron |
| 14/02/2012 | Londra. Birla Millenium Art Gallery |
| 29/05/2012 | Caerano San Marco (TV). Villa Benzi Zecchini presentazione di Vittorio Sgarbi |
| 17/10/2012 | Madrid. Instituto Egipcio de Estudios Islàmicos |
| 28/12/2012 | Parigi. Espace Kamél |
| 26/02/2012 | Londra. Birla Millenium Art Gallery |
| 02/07/2013 | Berlino. Galerie Vierraumladen |
2010-2011-2012-2013 Fiera Arte Padova
02/12/2012 Agora' Gallery New York USA
02/07/2013 Berlino. Galerie Vierraumladen
21/12/2013 Parigi Espace Kamèlon 
2014 sono previste esposizioni collettive delle mie opere in varie città d'Italia:
Milano, Roma,Venezia,Napoli,Firenze.
Europa:Mosca,Londra,Berlino,Monaco,Madrid,Monte Carlo.
Nel mondo:Nuova Zelanda, Istanbul ,Dubai,New York.